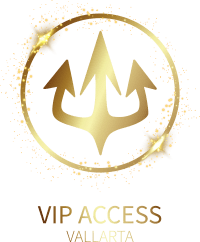 Renta de yates en Puerto Vallarta con VIP ACCESS Vallarta
Nos especializamos en renta de yates en Puerto Vallarta, Bachelorette Party, Limusines en Puerto Vallarta, NightClubs, Open Bar, acceso y promociones en los mejores antros de Vallarta, los mejores tours de puerto Vallarta, reservaciones en los mejores restaurantes, transportacion privada, en Puerto Vallarta y Riviera de Nayarit y mucha mas diversion garantizada al 100%. Por eso nos hemos comprometido en la satisfaccion de nuestros clientes manejando un estandar de servicio y calidad VIP. Con un servicio personalizado, no dudes en llamarnos estamos a tus ordenes 7/24 los 365 días del año Recuerda que tenemos precio especial para grupos, agencias y congresos los esperamos en Puerto Vallarta.
Los profesionales de viajes y clientes de todo el mundo que nos visitan eligen Vip Access Vallarta porque somos la única compañía líder en Puerto Vallarta por brindar servicios de alta calidad para ustedes viajeros. Nuestro famoso logotipo del tridente se puede encontrar en toda la web.
Cuando nuestros clientes utilizan los servicios de Vip Access Vallarta, saben que están comprando confianza, calidad, comodidad y tranquilidad cuando o donde sea su estancia, placer o diversión Vip Access Vallarta es entretenimiento y no dejamos "Creamos experiencias inolvidables en Puerto Vallarta para los viajeros de todo el mundo. Renta de Yates en Puerto Vallarta  hoy!
CONTACTANOS HOY, DIRECTO +1 812 413 0825
CALL NOW ▾ ▴ Call
We come from Portlan Org. And it was a great option consult this company online of all those that we consulted this was the best option since we marked them thank you very much for your services the yacht the night club Strana excellent everything!
Super super highly recommended exceeded all our expectations, our best holidays thanks to Jonathan
The best service of Puerto Vallarta !! Quality, attention, service .... everything you need for a luxury vacation !! Thanks for your attention!! See you next year!
Very good attention, Jonathan went to our department to leave us the tickets, Strana excellent service by the staff.
Johnny was our manager in coordinating transportation and the boat. Very good and professional. I especially recommend for people who are visiting from the USA.
Taller de Computo Vallarta
We are a computer repair company. We had a yacht event with all our employees and let me share that we had an excellent quality and service deal.
ECELENT SERVICE, VERY PROFESSIONAL AND WITH ALL THE SECURITY MEASURES FOR US WE RENT A ROUND SUBURBAN TRIP AND A YACHT FOR MY FAMILY IT WAS A GREAT DAY!
renta de yates de lujo y autos son solo algunos de los servicios que brindamos
Síguenos en las redes sociales